Gary Vaynerchuk, a famous motivational speaker who is known for producing inspirational content for his audiences on Snapchat, Youtube, Facebook, Instagram, and LinkedIn, is also an author, vlogger, investor, and entrepreneur. He founded a digital marketing agency with his brother. Before becoming the limelight in the digital market and a social media influencer, he was an entrepreneur. He is a great inspiration for everyone. Today, we will know about the grayvee journey of being a great face of social media. 
The Early Life of Gary Vaynerchuk
On November 14, 1975, he was born in Bobruisk, Russia. Three-year-old Gary was moved to the United States by his parents as they wanted to leave the Soviet Union which was under the influence of communism during that time. They migrated to New Jersey and settled in Edison. his father started working in a liquor store and after 10 years he became a partner to the wine business. His father later purchased a share of the business from his partner and became the full owner of the shopper's discount liquors. Gary got an entrepreneurial spirit from his father. He sold flowers, lemonade stands, baseball cards, and more and made thousands of dollars during his teenage. 
Unlike other parents, Gary's parents never forced him to excel in school as they were satisfied with his endeavors through which he managed to make somewhere $ 2000-$3000 a week. He joined the family business at the age of 14. Grayvee learned many valuable lessons throughout his journey in the family business. Later, he went to Boston to earn a bachelor's degree. 
Gary Vaynerchuk's Net Worth
| Net Worth: | $200 Million |
| --- | --- |
| Age: | 46 |
| Born: | November 14, 1975 |
| Gender: | Male |
| Height: | 1.70 m (5 ft 7 in) |
| Country of Origin: | The Soviet Union |
| Source of Wealth: | Entrepreneur |
| Last Updated: | August 2, 2022 |
Grayvee Journey to Wine Library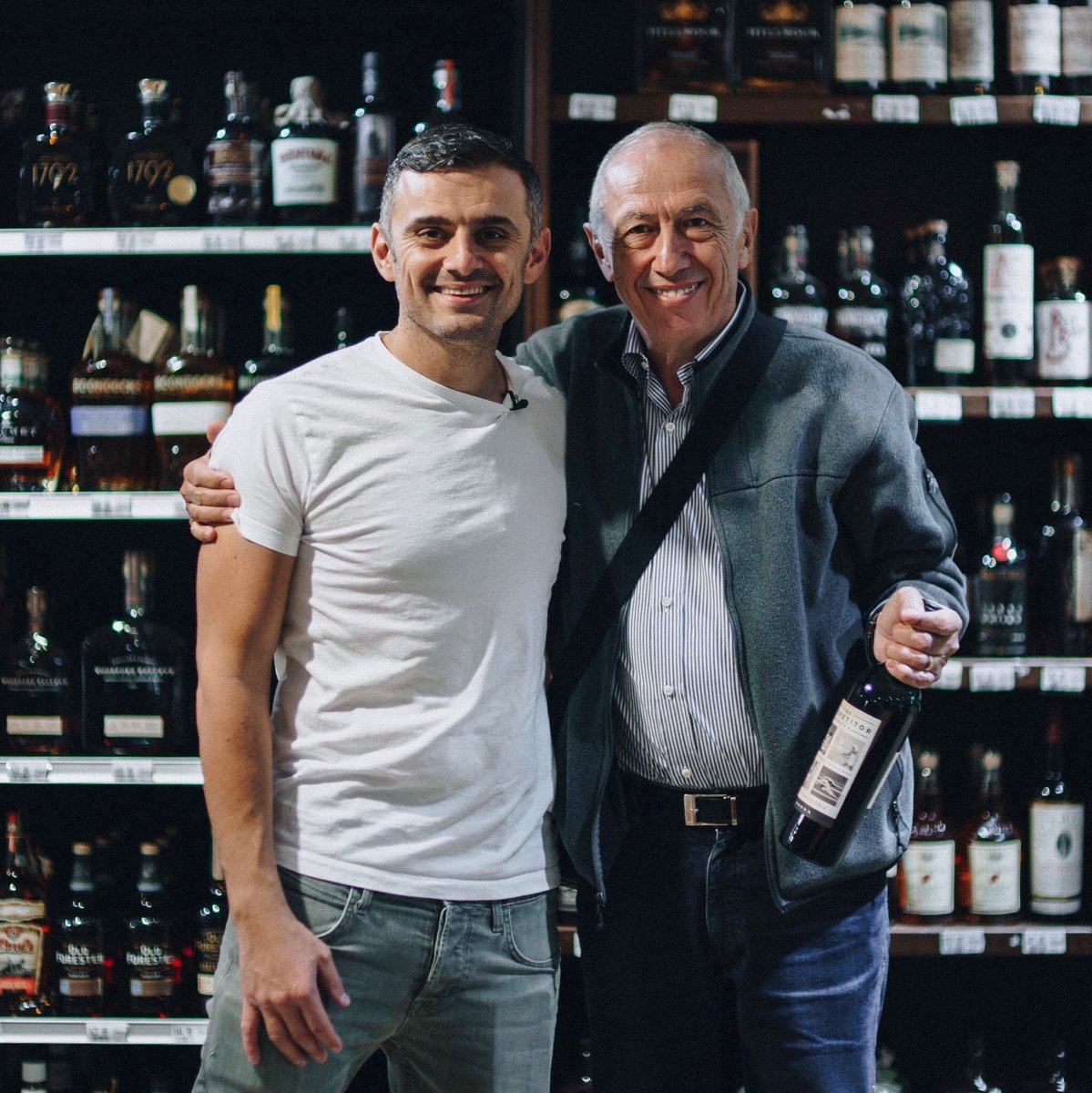 In 1988, after graduation, he rejoined the family wine business. However, during his graduation, he realized that the use of computers and the internet could take his family business to greater heights. He used many interesting marketing ways to serve his customers with weekly discounts and special offers. He also started a website then with the hope of increasing his wine store. His website was winelibrary.com through which he raised his business to $60 million in just five years. 
A Social Media Personality 
Grayvee journey to become a popular face on social media began with a show called Wine Library TV where he shared and promote his website with a daily session of only 20 minutes. He was then called on a famous TV show The Conan Show after which he became a popular face and other popular TV shows started featuring his business. He continued to produce vlog videos where he used to share his lessons on client meetings and press events and give financial advice. He shared his success stories and struggles during the journey. Around 3.94M subscribers are following him on youtube till now. 
33 Gary Vaynerchuk Quotes
"You have to understand your own personal DNA. Don't do things because I do them or Steve Jobs or Mark Cuban tried it. You need to know your personal brand and stay true to it."
"Regardless of what you're trying to accomplish you've got to tell the world about it."
"Skills are cheap. Passion is priceless."
"No matter what you do, your job is to tell your story."
"Look yourself in the mirror and ask yourself, what do I want to do every day for the rest of my life…do that."
"Trust is on the rise because transparency is on the rise"
"99% of what we deal every day in business doesn't matter. If you religiously follow the few core business philosophies that mean the most to you, everything else will naturally fall into place."
"If you fail and people laugh at you, they're not worth your time. Ignore them."
"Cash is oxygen. You can make the greatest cup of coffee, the greatest sneaker, the greatest TV show, or the greatest work of art ever, but if you can't sell your product you are out of business."
"What's the ROI of a piano? To me, it's zero. For Billy Joel and Elton John, it has been substantial."
"How do you make people buy in? You don't. I speak only to the converted, and you should do the same."

"Retention is the game. The game in business is not how many customers you can get, it's how many you can keep."

"The game for me is not acquisition, it's lifetime value and the percentage of wallet I get from that person."
"Provide 51% of the value in a relationship, whether it's with an employee, a client, or a stranger."
"You can't live your life based on other people's point of view. I am tired of people not starting and living their life on one very simple thing which is they're worried about what other people think."
"Smart work will never replace hard work, it only supplements it."
"People are your most important commodity."
"Never be romantic about how you make your money."
"If your work is great, that becomes your reputation, and that becomes the gateway drug to bring business into your sales funnel."
"The truth is that finding happiness in what you do every day is so imperative."
"You didn't grow up driving…you figured it out."
"There is never a bad time to start a business – unless you want to start a mediocre one."
"Time – the one asset none of us are ever gonna get more of."
"All your ideas may be solid or even good. But you have to actually EXECUTE on them for them to matter."
"Love your family, work super hard, live your passion."
"I'm just always looking forwards. I spend very little time, looking backward"

"Effort is grossly underrated."

"You can market your ass off, but if your product sucks, you're dead."
"Legacy is greater than currency."
"I hate how many people think "glass half-empty" when their glass is really four-fifths full. I'm grateful when I have one drop in the glass because I know exactly what to do with it."
"If you live for the weekends and vacations, your shit is broken."
"You need to spend all of your time and energy on creating something that actually brings value to the people you're asking for money!"
"Stop whining, start hustling."
Vayner Media
A digital marketing agency "Vayner media" was started by him along with his brother. Throughout his journey, he learned many marketing and branding skills. He shares all of these here and provides robust marketing strategies to the biggest firms and corporations around the globe. The NBA, Chase, Toyota, and more are some of the big clients he has.
Gary has a powerful presence and is the most talked about entrepreneur of the time.